The Industry Standard
3DInternet has collaborated with leading utility companies and subject matter experts to create the new training standard in the electrical industry.
Advantages of this standard
Keeping safety training universal
Known level of training
Endorsed by multiple utility companies and Subject Matter Experts
Setting standards for the industry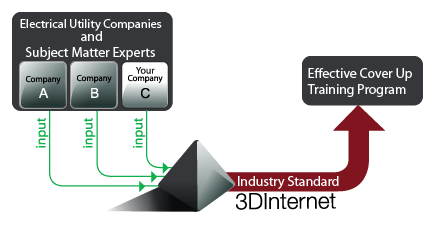 Time, Learning and Cost Effectiveness
3DInternet's training methods will help save you time and money and increase the retention rates of your employees.
Time
Easy to Use
Automated System
Easy Deployment
Highly Accessible
Learning
No Pressure
Your Own Pace
Proven Method
Rapid and Refresher Learning
High Retention Rate
Cost
Available base model or customizable to your company's brand
Addresses various safety issues within the industry not just for a specific company
Prevents damage to equipment and personal injury
One time purchase

Saving Lives and Equipment
At 3DInternet our focus is to create a better method of training that will avoid damage to costly equipment and give your employees the knowledge they need to do their job safely and efficiently, before they go out into the field.